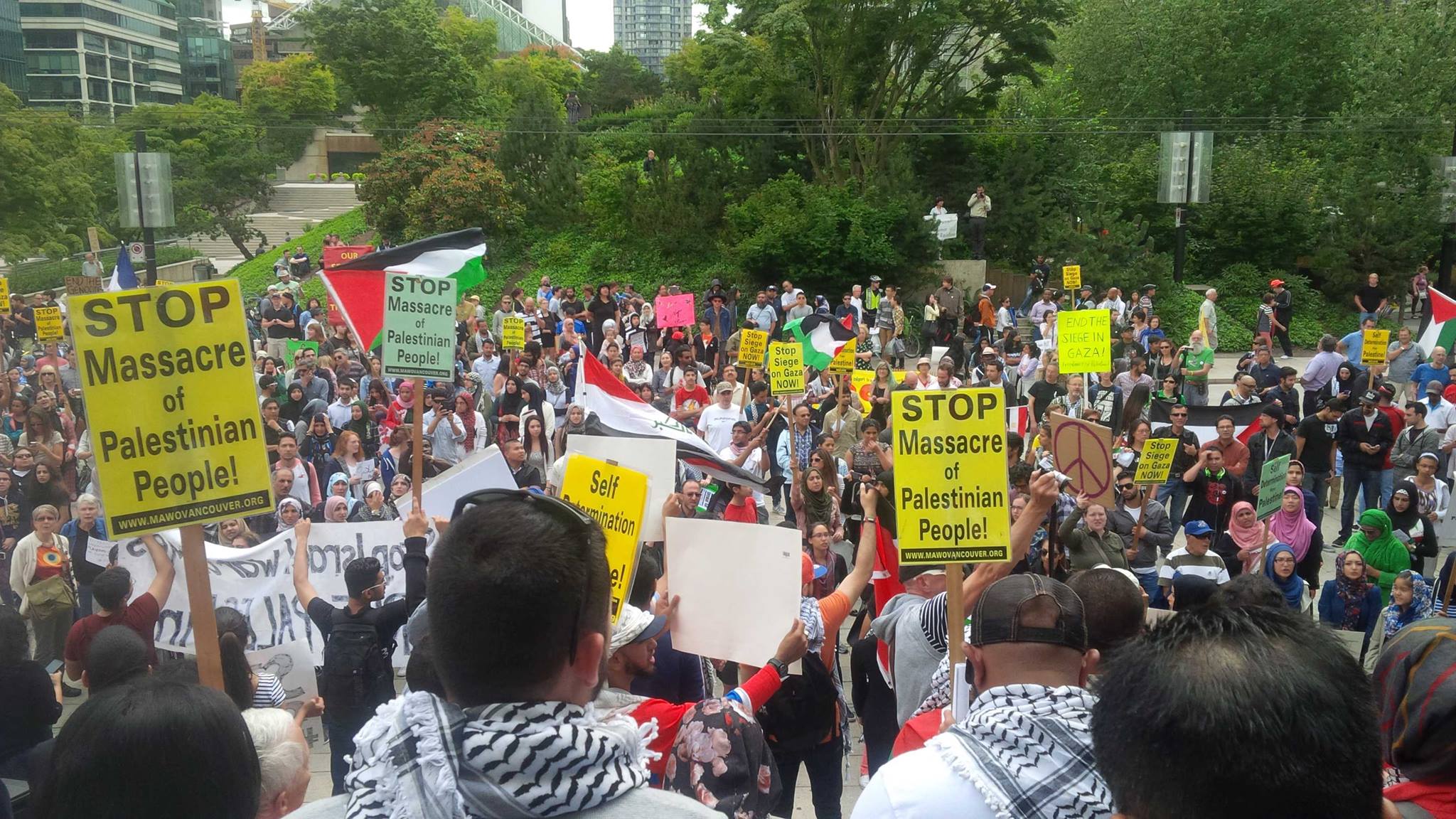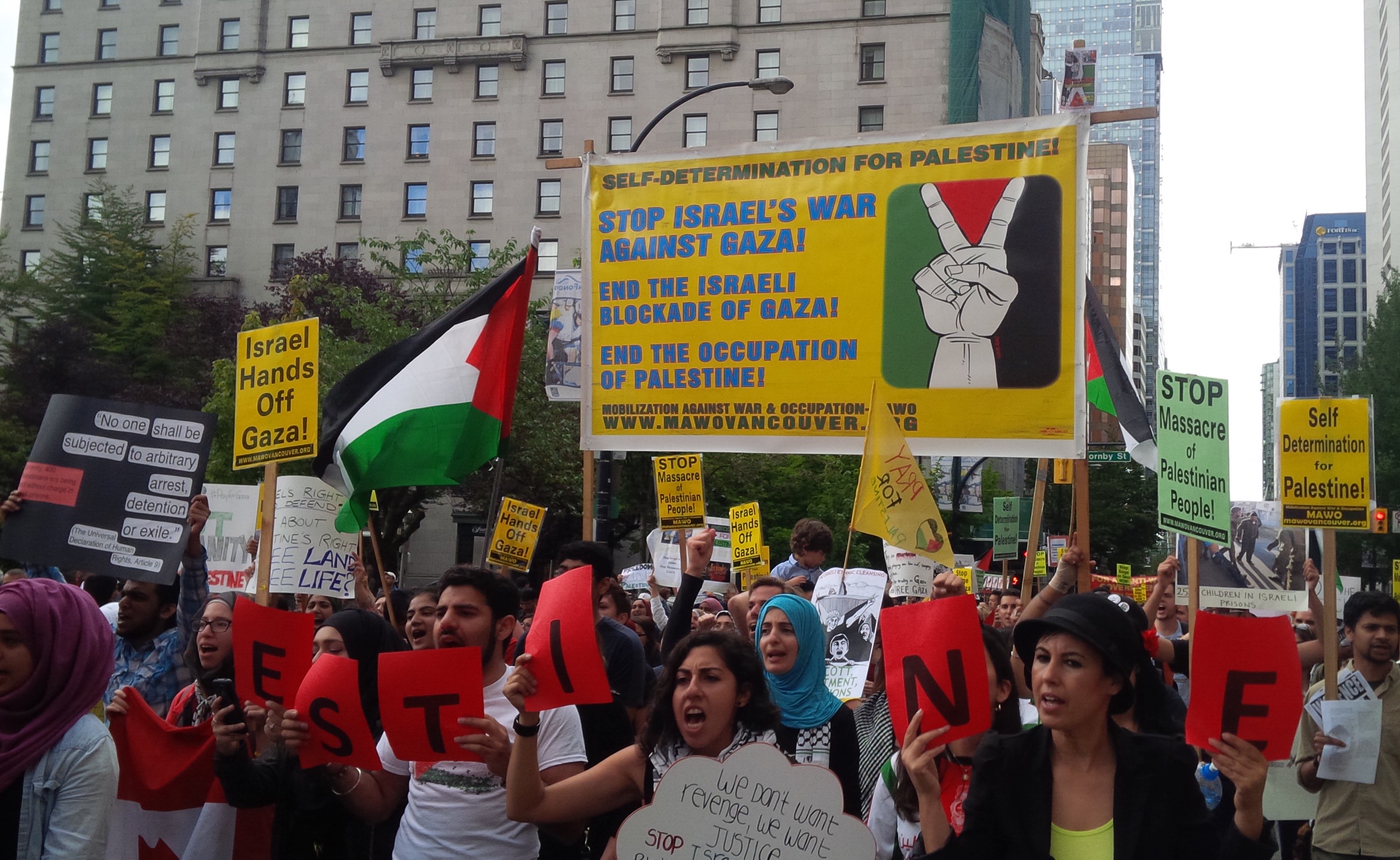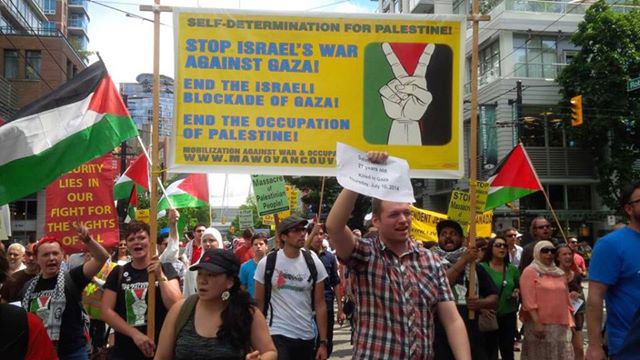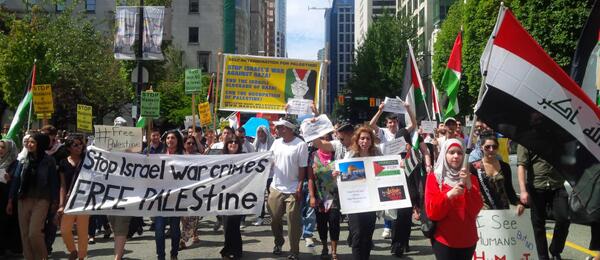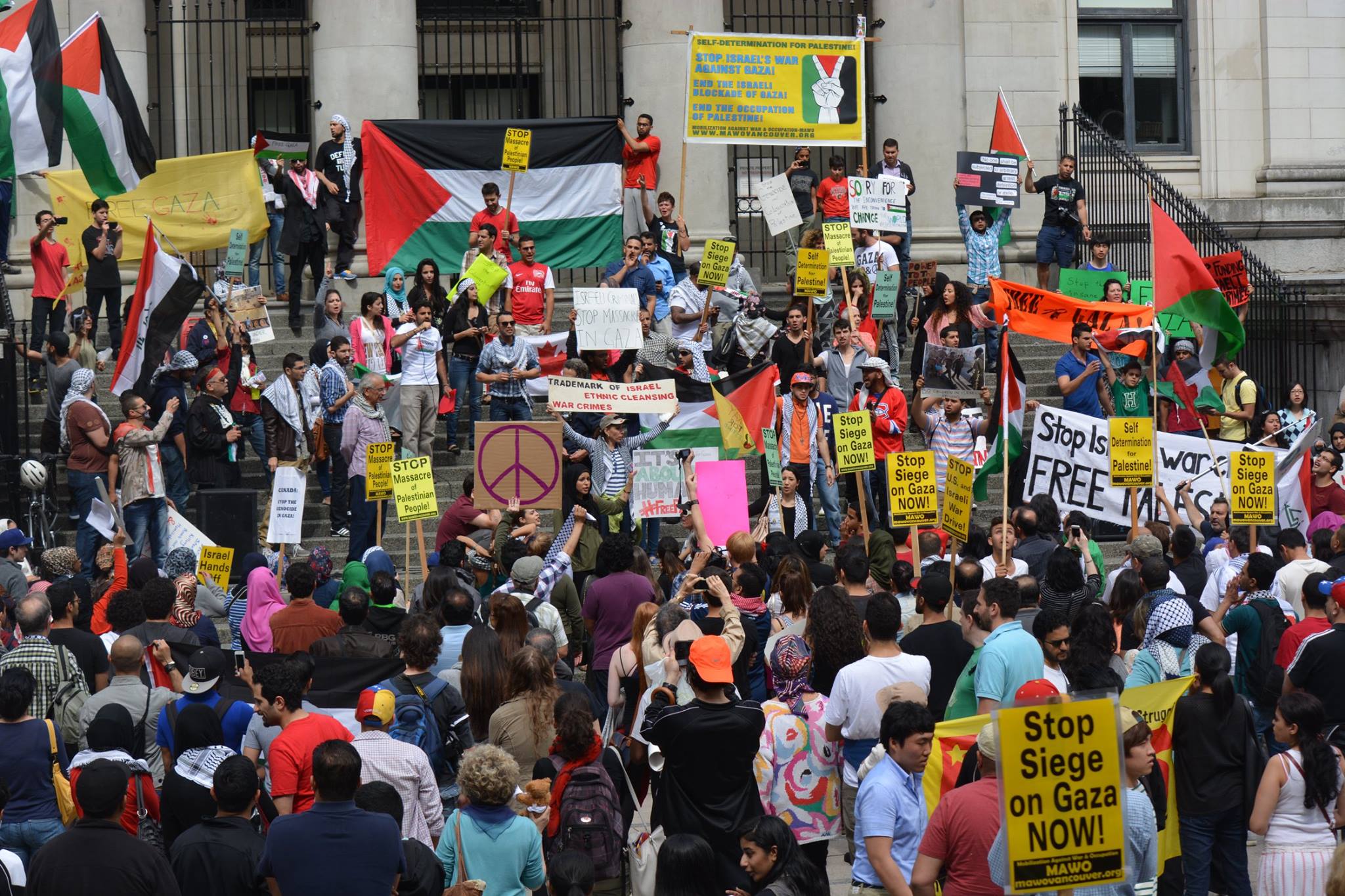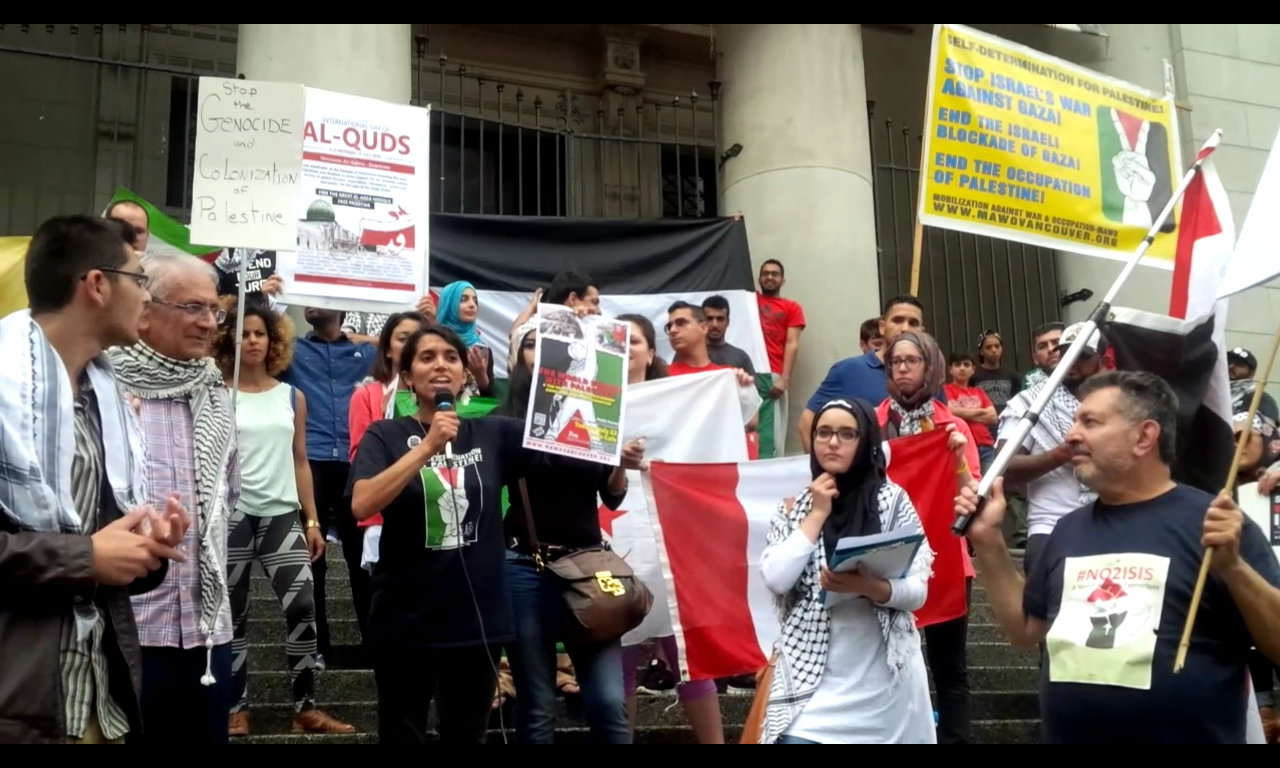 Statement from Mobilization Against War & Occupation - MAWO
July 19, 2014

For more than two weeks, Israel has been pounding the people of Gaza, one of the most densely populated territories in the world, from the air, ground and sea. Thousands of air strikes and intense shelling have hit Palestinian homes, mosques, physical rehabilitation centres, roads and entire communities, killing more than 400 Palestinians, and injuring more than 2,000 people, most of them civilians.

Israel is once again blaming its current aggression on Hamas, as Hamas has been responding to the Israeli bombardment by launching homemade rockets into Israel. However, the origins go beyond the stories we hear in mainstream imperialist media and the real reason has nothing to do with rockets.

On April 23, 2014, Fatah, the political leadership of Palestinians in the West Bank formed a unity government with the more militant Hamas, which is the elected leadership of Palestinians in Gaza since 2006. Upset with a show of unity and strength among Palestinians, Israel needed to find a way to punish Palestinians and try to divide their leadership. While pushing Fatah to end its coalition with Hamas, Israeli Prime Minister Benjamin Netanyahu immediately blamed Hamas for the disappearance of three Israeli settler teenagers in June and used it as a pretext for collective punishment as Israel launched 'Operation Brother's Keeper', where more than 700 Palestinians in the West Bank were arrested, thousands of homes were raided, five Palestinians were killed, and the West Bank was locked down. When the three Israeli teenagers turned up dead, Netanyahu put the blame squarely on Hamas and the Israeli Defense Forces (IDF) then bombed Gaza 34 times. While Hamas denies any responsibility, it resisted the Israeli bombings with its home-made rockets. At the same time, anti-Palestinian hysteria gripped Israeli society and a young Palestinian teenager was immediately kidnapped, tortured and killed by racist Israeli settlers.

The argument that Israel and imperialist countries use, that Israel is simply defending itself against terrorists, is ironic because Israel, itself, is a country built and maintained on terrorism. Its very foundation on Zionism and colonialism in 1948 is with Palestinian blood. The ethnic cleansing of Palestinians from their homes, towns and cities allowed for the appropriation of more land by the Zionist state. And today, after more than six decades, Israel keeps Palestinians locked down in the West Bank and Gaza, which get smaller and smaller as Israeli forces and settlers continue to confiscate more Palestinian land.

Today, Gaza is described as the 'the largest open-air prison in the world' with 1.7 million Palestinians virtually locked within a 350 square kilometres strip along the Eastern Mediterranean Sea. As a result of the Israeli blockade, unemployment in Gaza is soaring beyond 38.5%, which surpasses the rate of 25% in the Great Depression-era of the United States. 13.2% of children in Gaza suffer from acute malnutrition and another 18.9% suffer from anemia.

"The blame on all of this is those terrorists who are firing on civilian populations."- John Baird, Foreign Minister of Canada, July 10, 2014.

Canada's unwavering support for the Israeli Zionist racist state dictates its foreign policy, Baird is once again placing every death, every injury, and every leveled building squarely on the shoulders of Hamas and the Palestinians. Baird also criticized Navi Pillay, UN High Commissioner for Human Rights, when she suggested that Israel's air campaign on Gaza may violate international laws prohibiting the targeting of civilians and that there should be an immediate ceasefire. Baird's statement in response was clear: "Canada rejects UN High Commissioner for Human Rights Navi Pillay's uncalled-for criticism of Israel's response to rocket attacks from Gaza. Focusing her comments on Israel is neither helpful nor reflective of the reality of this crisis." The reality that Baird is referring to is painted with brush of lies and manipulations by imperialist media across the world, including Canada, depicting Israel's current siege on Gaza as a somehow equal war or a measured response to "Hamas terrorists."

Canada not only doesn't recognize the democratic decision of Palestinians in Gaza who overwhelmingly voted in the militant Hamas as their elected leadership, but Hamas remains on its list of terrorist organizations.

Palestine will never die! Long live Palestine!

As protests in solidarity with Palestine erupt across the world, it is encouraging to see some governments of the world call for an end to Israel's violence. Evo Morales, President of Bolivia, who broke diplomatic ties with Israel after the 2009 siege on Gaza, is trying to have Israel face the International Court of Justice for its crimes against humanity. The Cuban Foreign Ministry, who also cut diplomatic relations with Israel, denounced "that Israel uses its military and technological superiority to execute a policy of collective punishment with out-of-proportion use of force, which causes the death of innocent civilians and huge material damage." Venezuelan President Nicolas Maduro launched an "SOS Palestine" campaign to demand an end to Israel's war on Gaza. "The Palestinian people have the right to live in their ancestral lands in peace…our international position over the issue of Palestine is just and follows the policy of Comandante Hugo Chavez." Venezuela also hasn't had diplomatic ties with Israel since the 2009 siege on Gaza.

For more than six decades, Palestinians have endured the most brutal form of military occupation, displacement and genocide from the Zionist Israeli state. It is their resilience and determination to fight for what is rightly theirs--their land, their self-determination and dignity as a people--that is the reason they will once again be victorious against this new military onslaught by the criminal Israeli Defense Forces. It is their struggle that continues to inspire people in every corner of the world to fight for justice. It is why the Palestinian flag is such a strong symbol in our fight for a world free of injustice, wars and occupations.

In Canada, we need to hold the government of Canada accountable for its blind support for the illegal settler state of Israel. All working, poor and oppressed people need to stand together against the bloodshed Israel is committing against our Palestinian brothers and sisters.


Mobilization Against War & Occupation (MAWO)
www.mawovancouver.org